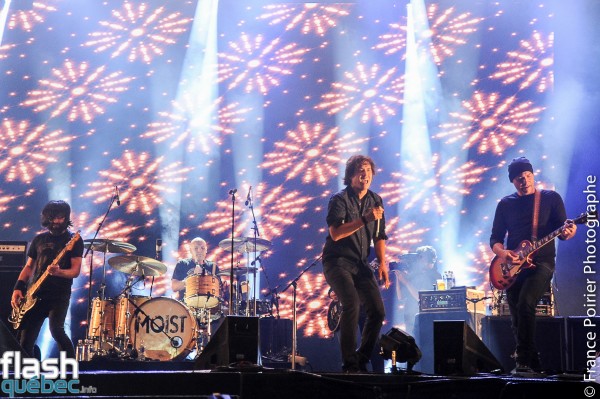 Jonas and the Massive Attraction a cassé la baraque à l'International de montgolfières de Saint-Jean-sur-Richelieu vendredi soir. La foule n'était malheureusement pas aussi nombreuse que les précédents soirs en raison de la pluie, mais Jonas est tout de même arrivé sur scène avec une énergie débordante pour offrir une dizaine de chansons dont Supersexme, Seize The Day, Pushing Me Away et Burn The House Down.
Le rockeur Jonas a également interprété la pièce In The Air Tonight de Phil Collins ainsi que Respire et Je crie ton nom, deux de ses chansons francophones. « En show à Chicoutimi, les gens pensent que c'est je crie ton nom là. Peux-tu chanter la chanson là là? C'est je crie ton nom love. »
Une première partie tout en rock avant la venue du groupe de rock alternatif Moist devenu populaire dans les années 90. Les membres de Moist sont montés sur scène en débutant avec Mechanical, un succès de 2014 de l'album Glory Under Dangerous Skies.
Le groupe a interprété plusieurs chansons de leurs différents albums comme Kill For You, Silver, Black Black Heart, Gasoline, Resurrection et Believe Me. David Usher et ses acolytes étaient en forme et ont offert une performance explosive au grand plaisir des fans qui avaient hâte d'entendre de nouveau le groupe. De la guitare électrique, de la batterie, des voix puissantes, des jeux d'éclairages; tout pour passer une soirée des plus rock n' roll. Jonas et David Usher ont également été très généreux avec les spectateurs et se sont promenés dans la foule pour aller chanter plus près d'eux.
A VOIR:
Meghan Trainor – Charlie Puth et Olivier Dion !!!
La folie d'une envolée avec Anouk Meunier
Jonas and The Massive Atraction au FEQ
David Usher au Virgin Festival
Tyler Shaw et Shawn Mendes à l'international de montgolfieres